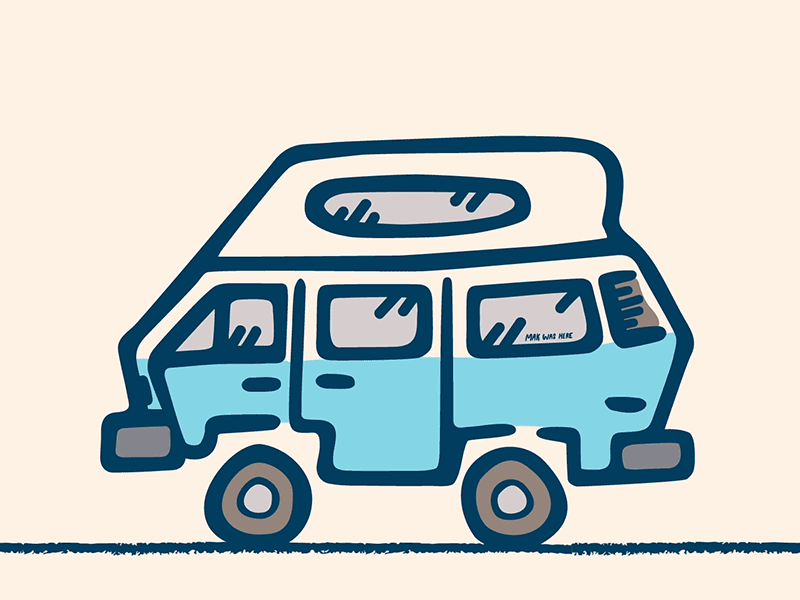 Rental Terms and Conditions
​
Vehicle Use
MyKauai Camper Rentals LLC has a very strict no off-road use. Heavily washboard and or potholed roads may leave you stranded and with a large repair bill. Keep in mind that these are not 4 wheel drive vans and it is very easy to get stuck on muddy shoulders, soft grasses, and loose gravel. Your Insurance comes with 24-hour roadside assistance, but it is your financial responsibility if you do get stuck in an unimproved area/road.

These vans can easily get stuck. Getting stuck will be your responsibility to address.

We will give you a thorough orientation to your van, and you'll have the opportunity to ask questions and learn the basics about driving your van.

Our vans have automatic transmissions.

Keep your eye on the temperature gauges.
Pick-up and Drop-off

​
We are located 6 miles from the Lihue Airport the easiest for you is to catch a UBER ride to 650 Aleka loop in Kapaa. The cost is normally $16 when you arrived we will be waiting to give you a full tour of your camping and it's an operation

Because our next series of renters are waiting for your van at the end of your adventure, it's very important that the drop-off time (11:00 AM) are adhered to. There is a $50 charge for late drop-offs. Similarly, we are unable to accommodate early pick-ups unless the van is ready early but we do charge a $50 "early pick-up fee. Paid with cash at the pick-up.

Please plan your arrival back with enough time to make your flight. MyKauai is not responsible for any costs incurred due to changing travel plans because of any issues including vehicle breakdowns.

Our daily rate includes 3 adult adults and one child (12 and under). Any fourth adult triggers a $15 per night fee.

Please return your rental tidy. We detail each van in between rentals, but an excessively dirty van will incur an additional $150 cleaning fee.
Deposits, Cancellations, and Refunds
Reservation deposit (25% of full trip cost) is non-refundable

If the renter has paid in full and the booking is canceled more than seven days prior to booking start date, a partial refund of 75 percent of the full rental amount (minus fees) is issued

If canceled less than seven days prior to the booking start date, a partial refund of 50% of the total rental amount (minus fees) is issued.

A security deposit is required against damage, unreasonable use, or excessive cleaning requirements. The security deposit is generally released within 3 days after returning the vehicle. This charge is automatically charged to your credit card used for reservations 3 days prior to pick up. Any damages that occur to your van or MyKauai property will be deducted from your security deposit.

MyKauai reserves the right to cancel a reservation at any time (including at pick-up) based due to natural disasters, changes in business conditions, unforeseen natural occurrences, or other situations that would make renting a van unsafe. This includes but is not limited to a renter showing up intoxicated or otherwise unable to safely operate the vehicle. In the event of a MyKauai initiated cancellation, a full refund will be issued.

While we will do our best to place you in the van you have reserved, the nature of renting vintage vehicles is such that from time to time we have to make a last-minute substitution. All of our vans are "equal" in quality and if we are unable to provide you with the van of your choice we cannot provide any discount or refund.
Insurance
All drivers must be 25 years old or older.

Insurance is required on our rentals and it must be obtained through our partner, Wheelbase. The policy provides full coverage for collision and the statutory minimum coverage in each state for liability - you can, and are encouraged, to purchase additional liability coverage up to $1M at the time of checkout (we make no money on this). There is a $1,500 maximum deductible. Unfortunately, your credit card or personal automotive policy will not provide the proper coverage for a vintage camper van with propane and plumbing.

In the event of an accident, you must contact us immediately. We will provide assistance.

You must pass a quick DMV check to rent with us. Recent DUIs or excessive speeding tickets in the past year might disqualify you. If you fail to meet the DMV requirements, you will receive a 100% refund including any fees. This will happen within 72 hours of your reservation.

Non-US residents are okay to rent with us. You must obtain the insurance described above.
Breakdowns and Delays
MyKauai Camper Rentals receive regular maintenance. In the unlikely event that your rental breaks down.

24-hour roadside assistance is included with your rental. $9/ day. Note that the 24-hour roadside assistance is limited to accessible roads and areas. If you choose to explore more remote areas, you do so at your own risk and are responsible for costs associated with assistance.

Parts of our Island still don't have cell phone service. If an issue does occur outside of cell phone service, be prepared to get a ride/walk, etc. to cell accessible areas and proceed from there.

If the issue is not deemed to be a simple repair, Mykauai will attempt to provide a back-up vehicle.

If a back-up vehicle is not available and your vehicle is not repairable in a reasonable window of time (generally speaking, 24 hours), MyKauai will refund the remaining days rental fees.

If you are outside of the prescribed area or are deemed to be on a non-approved road, all costs associated with towing, repair shall be borne by the renter. Shoulders and unimproved campsites are generally non-approved and "use at your own risk".

Each of our vans has a unique combination of supplemental camping equipment - both fixed within the vehicle and supplied as part of our service. In the event one of these systems fails or can not easily be prepared, we reserve the right to not repair during your rental or offer a replacement van.
True Fine Print
Mykauai is not responsible for any damages, inconveniences, or costs caused by late arrivals (regardless of the reason). Furthermore, MyKauai is not responsible for any loss, injury, or damage to person or property from any equipment rented from MyKauai including, but not limited to, the vehicle rental.

Upon receipt of your deposit, all terms and conditions stated herein are binding.

An additional contract will be required to be signed in conjunction with these terms and conditions.
Miscellaneous
As much as we love pets, we don't allow pets in our rentals.

We are excited to provide travel planning assistance but can not be held responsible for making arrangements or guaranteeing the quality of our tips - things change fast out there.

Remember, campsites book up early. Plan ahead. MyKauai is not responsible for lodging, parking, camping or similar aspects of your trip.