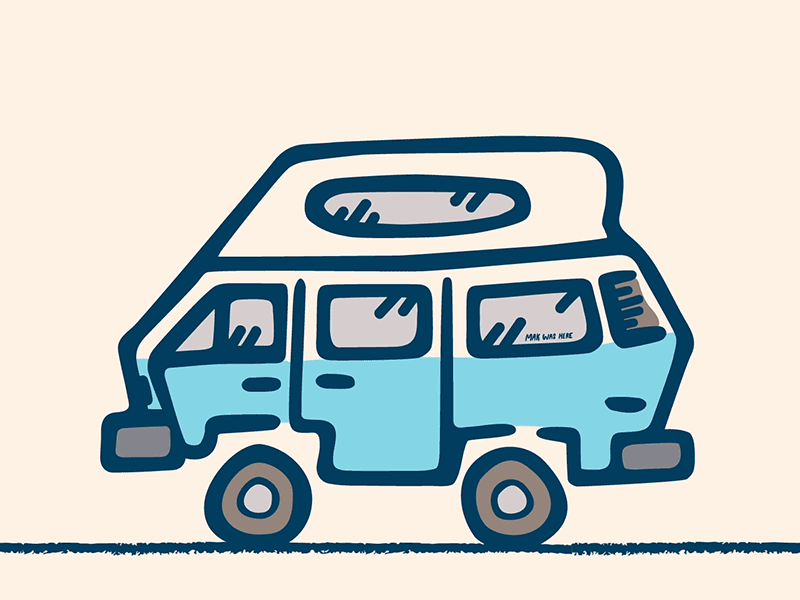 FAQ's​
I want to use my own car insurance. What must it include?

Your insurance also must cover older camper vans. Credit card insurance is NOT accepted. Vans cannot be released without proof of the valid US or Canadian full coverage insurance. When completing your reservation "adding insurance" will be an option. If booking through Airbnb, use Wheelbase insurance. 25 is the minimum age for renting a Van. You are responsible for all damage to the van or others.
​
We are not from Canada or the US do we need an international driver's license?
-Yes, we require international drivers license for all drivers outside the US or Canada.
​
We don't have a major credit card can we still rent a van?
-No sorry, we need credit on file to hold the security deposit.
​
Dead battery, flat tire, won't start?
-The renter is responsible for battery condition or flat tire that should incur. Hopefully, you opted for roadside assistance At our discretion, we may be able to offer assistance within reason. If roadside assistance is called without MyKauai Camper's permission, the total cost of said assistance is the renter's responsibility.
​
What happens if the van breaks down?
-Call us first. We will try to help fix/diagnose the problem. If the problem cannot be fixed over the phone. Hopefully, you opted for roadside assistance. If the problem cannot be fixed with a few hours we will provide you with another replacement van. If another van cannot be provided, we will give you a ride anywhere on the Island. MyKauai Camper Rentals is not responsible for costs associated with finding new accommodations, rental cars, or for the change in plans. You will, however, be refunded any unused days of your stay. If the breakdown occurs on a restricted road or in a restricted area all costs associated with towing, repair, transportation, accommodations, etc. shall be solely the renters' responsibility.
​
What happens if we get into an accident or someone hits the van?
-Call MyKauai 808-278-8760 and the Police as soon as safely possible.
​
How many passengers can travel in the vans?
-4 adults, 4-seatbelts
​
What type of gas do I need to use?
- Premium gasoline only.
​
What do I need to do before returning the van?
-Pick all (trash), personal belongings and fill your van up with premium gas only.

A $10/gal charge will be added on if the tank is not returned full.
​
Can I drink the water from the faucet?
-No, you cannot drink the water from the van kitchen faucet.
​
Can we smoke inside the van?
-No please do not smoke, even weed, inside the van, any evidence of smoking inside the van will result in an additional fee of $300.
​
Can I get my deposit back if I cancel my trip?
-
Reservation deposit (25% of full trip cost) is non-refundable

If the renter has paid in full and the booking is canceled more than seven days prior to booking start date, a partial refund of 75 percent of the full rental amount (minus fees) is issued

If canceled less than seven days prior to booking start date, a partial refund of 50% of the total rental amount (minus fees) is issued
​
What are your age restrictions on renting a van?
-All drivers with their own insurance must be 21 years of age. Anyone needing insurance coverage must be 25 years of age.
​
Is there a shower and toilet in the van?
-No there is not a shower or toilet. All campsites listed on the website offer shower and bathroom facilities, there are even a few campgrounds that offer hot water.



Rules:

The house batteries will be damaged if used below 50% capacity, Electrical system is sufficient to run 1 hour, Over 1 hour the engine needs to be run for an hour. Due to the high cost of AGM batteries, returning van with less than 12.5 volts indicates excessive battery drainage. Because of this permanently caused damage,

a $300 charge

to you will unfortunately occur. If we pick up or drop off a van there will be a $50 fee. (No services on Airport property). Picking up your Camper before 3 pm is possible with a $50 charge. Returning your van later than, 11 AM incurs a $50/hour fee. Because we will struggle to prepare it for the next renter. Cutting days off of your original reservation enables you to receive a 25% refund for those days not used. One pound of propane is complimentary. Additional lbs. are billed to you at $20 per pound. Feel free to ask if you have any questions.
​
IS THIS FOR ME?
The classic Westfalia camper van has not been built since the early 2000"s. Although well cared for and are new to renting, each has its quirks and personality. The "Westy is 4800 lbs. This means it can not accelerate and brake as fast as newer lighter vehicles. All of our vans with automatic transmissions only.
​
WHAT KIND OF CAMPING FEATURES DO THEY HAVE?
The Eurovan Westfalia is very well engineered and built. Capable of sleeping, 4 people, two on the lower bed, and two in the pop-up bunk area. The pop-top design allows for over 7 feet of standing room. A closet and 8 additional compartments. stow your personal items safely. The van holds up to 14 gallons of water for the sink and is easily filled with any garden hose.(Hose included) The stovetop unit runs on propane which is filled prior to each guest.0
WHY NOT RENT A REGULAR RV?
They don't exist These vans are highly sought after and for very good reason."Westys" camp like nothing else and still fit in a regular parking space.
CAN I BRING MY DOG?
Our vans are exceptionally clean, We cater to the nonsmoker/drinker and others who have allergies. There is also to high a risk in your pet defecating in the Van. please note that we will not allow dogs in any other vans under any circumstances.
​
HOW DO I KEEP MY FOOD COLD?
All of our vans have refrigerators that run off of the second battery bank. Our fridge can ran for 48 hours with no start-up or sun.
​
DO THEY HAVE

A/C

:

Pele, Moana, and Kailani do and Laka does not. With Laka, crank on the powerful ceiling fan, r

oll down the window, crack the vent window and enjoy the open road. Sticking to the coast, or the mountains in June - Aug is a good idea, as the valleys can be extremely hot in the summer months.
​
INSURANCE / ASSISTANCE
Insurance coverage for the duration of your trip is purchased through our partner Outdoorsy and is mandatory. Drivers must be 25 years of age or older. Roadside assistance is available if you get a flat, run out of fuel, need a tow, etc. Only drivers listed on the rental agreement are allowed to drive. All drivers and their drivers' licenses must be present at the time of vehicle pick up. Insurance is provided by our booking partner Outdoorsy so don't be surprised when you see an email from them after booking.
​
CANCELLATION POLICY
Reservation deposit (25% of full trip cost) is non-refundable

If the renter has paid in full and the booking is canceled more than seven days prior to booking start date, a partial refund of 75 percent of the full rental amount (minus fees) is issued

If canceled less than seven days prior to booking start date, a partial refund of 50% of the total rental amount (minus fees) is issued